Magic Sak Yant Tattoos
Tattooing with Bamboo sticks

Sak Yant tattoo literally translated means Yantra Tattoo. There are many ancient designs, which are made in the form of a Yantra. The Yantra - so the legend tells - can contain a lot of magic. Thus, various spells of monks are transferred into the tattoos. After piercing the traditional tattoos with a 50 cm long steel or bamboo needlem the tattoo will be filled with magic. This technique can only mastered by a few monks.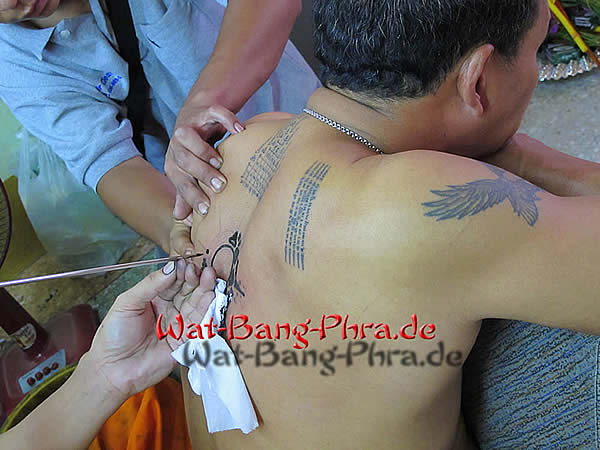 A Thai monk is tattooing a magic Sak Yant Tattoo in the traditional way

The technique of traditional tattoo piercing, the formulation of the ink and the magic yantras that were spoken after finishing tatooing, this secrets were only told from monk to monk for thousands of years.
There are besides traditional Yantra Tattoo figures also mythical creatures, mostly used from Hinduism.
The scripture in the tattoos is an almost extinct, ancient script, which is Pali or Sanskrit.
Originally Sanskrit from India, but was partially taken in Cambodia, Laos and Thailand hundreds of years ago.
Tattoo motive Singh (Lion) from an ancient Sak Yant book

Singh Sak Yant Tattoo after tattooing


The secret of Sanskrit and Pali, the magic letters in Sak Yant, nowadays only a few monks know. To learn the language Sanskrit and Pali, you will need a few years. To use it appropriately and learn the magic, it takes another few years of meditation training and not every monk is able to learn it.



Gao Yord Sak Yant, the 9 peaks symbolizes the biggest luck

The Hanuman Sak Yant is a strong magic tattoo for fighters and warriors


Traditionally tattoos are pierced a second time after finishing, that the countless points that are engraved, build a fine line. Depending on the age, thickness and material of the needle, the tattooing can be rather bleeding affair.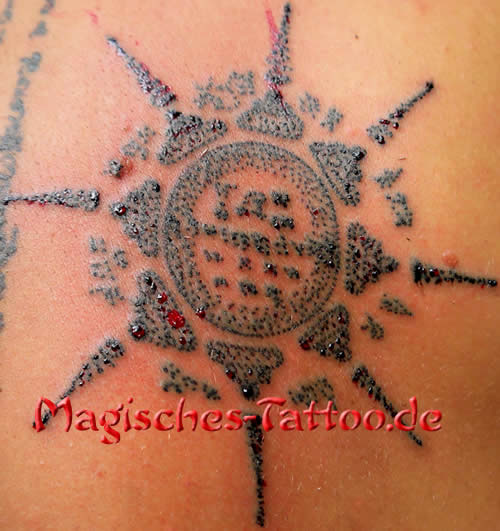 Traditional Tattoos can be a bleeding affair

For more information about the traditional way of tattooing and more information about the Sak Yant Tattoos, please visit our website >> www.Wat-Bang-Phra.com >>, where we report in details about the famous temple, the tattoo monks and the Sak Yant Tattoos.


---